BWB continuous development nature has paid off again with the development of their latest generation flame photometer.
With the electronics industry moving at a rapid pace it's key to ensure that products remain up to date with the latest technology and maintain their strong market position, their continuous development cycle being one of the key factors that BWB pride themselves upon.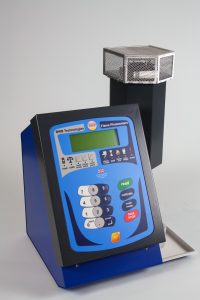 The latest generation boasts a whole range of new and improved features, which reaffirms the market leading brand many people consider them as, just a few of the new features and enhancements include;
Drastic simplification of internal components thus reducing the lifetime maintenance cost,
100% recyclable shipping box utilising card and PET foam packaging. In an attempt to help in reducing their carbon footprint BWB have set out their new environmental goals, one of these includes an increase in the use of recyclable materials, the latest generation is now packaged in 100% recyclable packaging and protected for international shipping;
Runs from 12v DC power, not only making the instrument safer for service and
maintenance engineers but allows the range of Flame Photometers to be run from something as simple as a car battery, this then allows for true 'field testing' if required;
Lighter design – The new generation has had a weight reduction of 20% making it safer to handle and easier to move and place into your laboratory;
Flexible gas adjustment guard – a new feature on the Gen 4 which allows for more freedom with the gas adjustment and also offers and indestructible design;
Brand new anti rotation interface of which is CNC machined within the gas adjustment valve prevents new operators inadvertently kinking internal tubes, meaning that there's less chance of error;
To help combat electronic noise and environmental temperature fluctuations BWB have incorporated and brand new optic temperature control within the optical array, helping you achieve more accurate results. Further developments within the optic array and design have increased low end detection over and above the previous generation.
It's not only the internal components that BWB have concentrated their development process on, this latest generation brings with it enhancements to the exterior too, building on customer feedback and ensuring that every small detail meets the high standards such a reputation brings. The robust precision laser cut metal housing is now finished with a high performance nylon based protective pain finish which not only makes it wipe clean but provides superior water repelling qualities compared to previous generations, the new finish helps to ensure the instrumentation is longer lasting and harder wearing.
All these brand new features and BWB still incorporate their award winning formula to create some of the best Flame photometers on the market today.
If you are interested in finding out more or purchasing one of BWB Technologies new Flame Photometers feel free to contact them by email at info@bwbtech.com
Supplier Contact Details