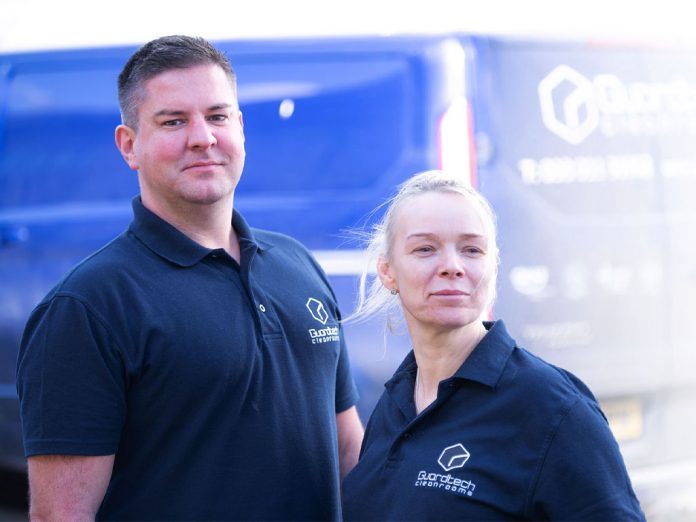 Sarah Mayes and Lee Burton bring a wealth of knowledge, skill and expertise to Guardtech's expanding Decontamination Team.
The Guardtech Group are delighted to welcome experienced cleanroom decontamination specialists Sarah Mayes and Lee Burton to the company.
The duo boast more than 30 years of combined cleanroom cleaning experience between them and their wide-ranging skillset strengthens the Decontamination Team services that Guardtech's growing business already offers.
Clients can choose between standard periodical decontamination packages (quarterly, monthly, weekly or daily) or opt for a more bespoke cleaning programme to suit their business' needs.
From builders' cleans and pre-validation cleans to biocidal and sporicidal cleans, the Decontamination Team work to GMP standards, conduct cleanliness verification tests (with full reporting), are certified to work from height and offer comprehensive multi-stage cleaning as and when required.
What's more, the Decon Team offer nationwide coverage – and Sarah and Lee are looking forward to bringing their five-star services to new clients all over the UK.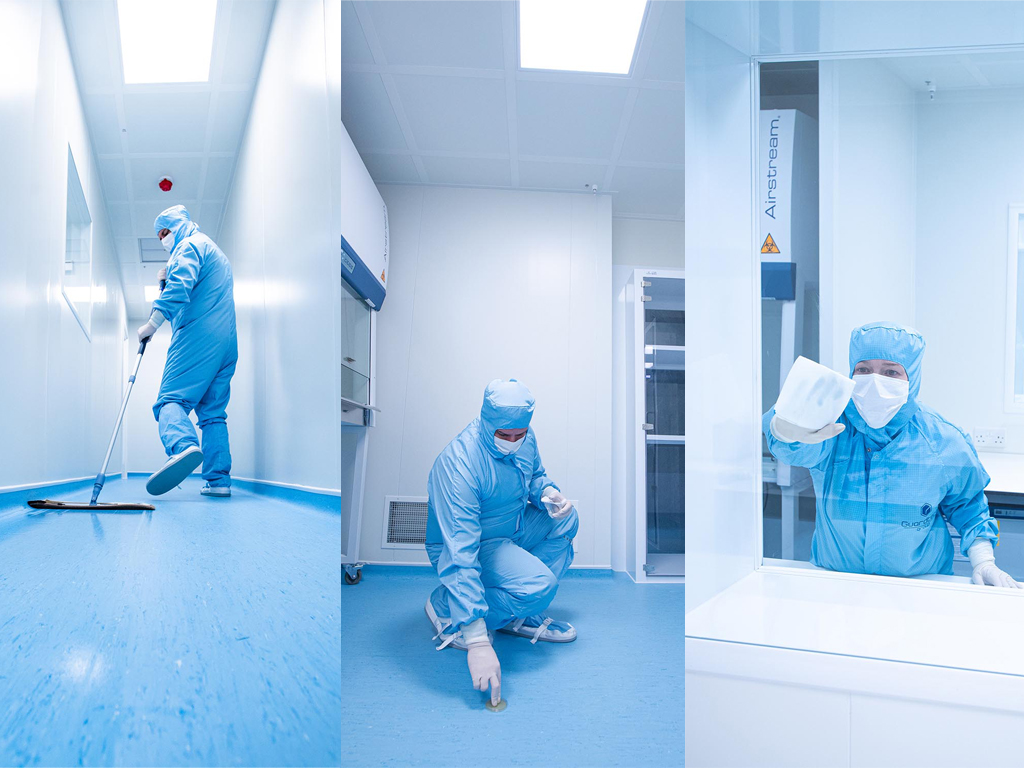 "We're really happy to be part of the Guardtech family," said Sarah. "Lee and I have been working together for a long time now and we're excited about the next chapter in our journey together.
"We're actively seeking new clients and would urge any businesses with cleanrooms to get in touch – as our services could be just what you need to ensure your facility performs at its optimum level."
Lee added: "We've developed a strong bond over many years of working together and we're certain that our unique experience will complement the great work that Guardtech already do.
"We can't wait to start taking on new clients and show them why the Guardtech Group Decontamination Team is the best around."
Among the wide-ranging solutions Guardtech offer, the Decon Team can conduct microbiological and bioburden testing with TSA and SDA plates and strip and reseal floors – including ESD vinyl.
The team will always take care to follow client SOPs and use their specific validated chemicals and equipment when required.
Guardtech Group Director Ray Wheeler, who oversees the Service & Decontamination Department, is delighted with the way the teams are shaping up.
"We've got some fantastic people coming into the business right now," he said. "The Decontamination Team really can do it all – they're an incredibly hard-working bunch and they now have an impressively diverse skillset.
"They don't miss a spot either – whether it's those awkward, hard-to-reach surfaces, under benches and chairs, ledges, cleanroom equipment, general work surfaces, walls, ceilings and floors – doing a comprehensive, high-performance job is what our diligent and dedicated team strive for.
"I should add that testing and validation are available in the programmes we offer. Particle and microbiological testing, pre- and post-decontamination, certify our process. The validation service is conducted to ISO 14644 standards by our own qualified engineers and is carried out periodically as per the requirements of our customers. We're the total cleanroom package and being able to offer a comprehensive solution for our clients is something we're really keen to promote."
For more information on Guardtech's Decontamination Team and the various cleaning programmes on offer, visit www.guardtech.com, email sales@guardtech.com or call 0330 113 0303.
Supplier Contact Details