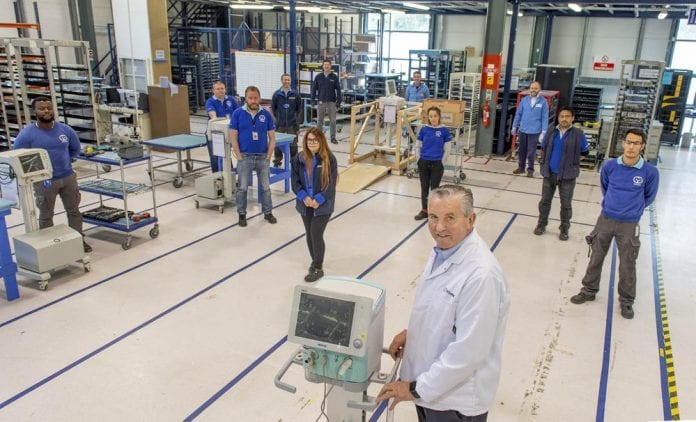 Specialising in recycling laptops, Irish firm Wisetek, has converted its production line to assemble life-saving ventilators to help support hospitals and battle COVID-19.
Wisetek are global leaders in manufacturing, data sanitisation, reuse & IT asset disposition services worldwide. The company has the mission to provide world class IT services delivering global excellence in sustainability, security, and compliance. Considering the recent events across the world regarding a shortness of health equipment due to COVID-19, Wisetek have transformed one of their production lines to assemble ventilators for hospitals and help to combat this pandemic.
Supporting the government through the production of ventilators
Established on the principle of lean manufacturing, Wisetek has a culture of flexibility and operational quality, combined with a full lifecycle solution, manufacturing assembly, logistics, e-waste management, recycling and more.
Wisetek was approached last month regarding ventilator assembly work, and after obtaining a component supply stream, Wisetek's engineers converted an entire production line within a short space of 24 hours.
Chief executive Sean Sheehan said: "The week previous, we turned out 24 ventilators. Last week, we turned out 42 ventilators. But we have the capacity to push that up to 50 a day.
"We are very proud to be able to undertake a project like this because we all understand the importance of supporting the Government and HSE at this time," he added.
Quality assembly
"We have been overwhelmed by the support not just of our suppliers but from the wider business community," Sheehan added.
The lean sigma approach embraced by Wisetek ensures that their service results in quality, delivery, and value. Based in Cork, Ireland, the company is now capable of assembling 50 ventilators a day with parts sourced from firms that have been greatly supportive of the initiative.
The firm is now working with the HSE on the production of ventilators which, once Irish demand is satisfied, could also then be made available for the possible export to other countries fighting the global pandemic of COVID-19.
Want to learn about Wisetek and the services they offer? Click here to find out more: Wisetek: Who are we
Supplier Contact Details